| | |
| --- | --- |
| Order the best gambling recovery system available. It is an excellent value for the price—especially when you consider the costs of continuing to gamble. | |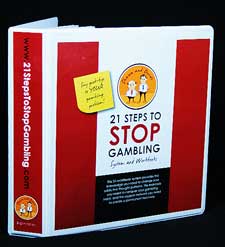 Seek to understand your mistakes so you may never repeat them.

– Unknown source
Our problem gambling recovery system is a valuable investment. It offers the step-by-step directions, exercises, and thought processes you need to build a healthier life.
The system includes 21 workbooks plus limited time access to online recovery support through our Recovery and Beyond Support Forums.
Each workbook is 12 to 42 pages in length and is designed to be completed over the course of one to three days. It typically requires 21 to 63 days to finish the entire 21-step curriculum.
Every system also comes with a limited time pass code that allows program participants access to our Recovery and Beyond online recovery support forums. There, you can interact with other recovery-oriented peers, Shawn and Drew, Recovery and Beyond support staff, plus any professional counsellors and gambling recovery specialists who participate.
The retail price of the 21-Step System, including the workbooks and the Recovery & Beyond LIFETIME online support forum membership, is $395 plus taxes. If your employee assistance program, pharmacy, or local treatment center needs to stock the system, please ask them to place an order with us. They will have it shortly thereafter.
If you prefer, you can order the system online directly from us. If you do, the cost is $320 ($395 minus a $75 online discount) plus taxes and shipping/handling costs.
Shipping & Handling Charges:
Canada
$10.00
USA
$25.00
UK & Europe
$50.00
Australia
$75.00
New Zealand
$75.00
Mexico
$100.00
Central America
$100.00
South America
$100.00
South Africa
$100.00
Orders paid with credit card or Money Order typically are processed in 1–2 business days. We process check orders after the check clears the bank (normally 1–3 weeks).
Expect to receive your Shawn and Drew's 21 Steps to STOP Gambling System and Workbooks in a "Recovery and Beyond" box.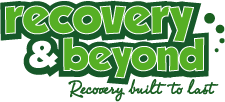 Do you wish to order online with a credit card or a PayPal account? You can order through our worldwide distribution site, Recovery and Beyond. Just click the link below.
Individuals who wish to pay by check or Money Order can print an order form, include payment, and mail your order to us. We accept checks and Money Orders from Canada and the United States.
For orders outside of Canada or the USA. We can process your order if you reside outside of Canada or the USA, using our mail order form. Please note that we require payment in the form of an International Money Order payable in either US Dollars or Canadian Dollars, to accompany your mail order form. Once we have received your completed order form by mail, we will send your workbooks and online support forums access code to you.
If you are interested in volume or wholesale purchases, please complete the following form and click the Order button at the bottom. A representative will contact you to confirm your order request and arrange payment.
We accept Money Orders and company or personal checks from Canada and the United States.
We treat the information you provide confidentially. We use it to contact you and to supply any assistance you might request. If you have any concerns, please read our Privacy Policy.