We have collected other Internet resources that can help you learn more about problem gambling and related issues.
Recovery Stories and Resources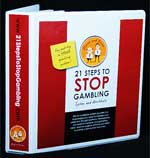 These facilities, are authorized to distribute and utilize "Shawn and Drew's 21 Steps to STOP Gambling System & Workbooks" within their region:
Recovery and Beyond – Shawn and Drew's Online Support Centre, including forums.
Aventa – Aventa offers a range of residential and outpatient treatment programs for women with gambling addictions. Located in Calgary, Alberta, Canada.
Money Addictions of America, LLC – Specializes in the prevention, education, and treatment of money addictions. Located in Long Island, New York, U.S.A.
Gambling Therapy – Online therapy and support groups, based in the UK, for people concerned about their own or someone else's gambling.
Problem Gambling Guide – Offers help, support, and advice for problem and compulsive gambling recovery.
Problem Gambling in Europe – Reports from 21 countries throughout Europe compiled by an interdisciplinary panel of researchers in gambling behaviour.
Recovery and Beyond Online Support Centre
Betfilter – Specially designed to stop gambling. Tested on people with real gambling problems.
Money School – This program offers online courses to help people develop an enhanced level of financial understanding.
Center for Financial Social Work – Offers psycho-socially based programs that help people change their financial behaviors.
Families and Work Institute – A nonprofit, nonpartisan research organization whose studies of the changing workforce, the changing workplace, the changing family, and the changing community result in action.
Going Debt Free – This United Kingdom site offers a unique reference point on getting out of debt and managing your money.
Kids Help Phone – Free, anonymous, 24/7 telephone and online counselling.
Life Recovery Program – This program offers wholistic treatment options for a wide range of addictions and impulse/control issues.
Reach Out – Help in getting through the tough time.