Read Step 1 to get an idea of how our problem gambling recovery system works. Once you like what you see, you will want to order the complete system.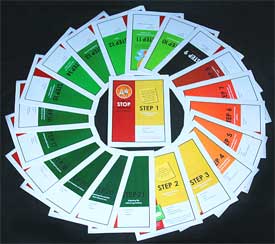 This helpful preview includes a four-page introduction to the full system as well as Step 1, a 20-page workbook entitled Admitting You Have a Problem.
This first step introduces you to addictive gambling, a progressive illness with increasingly severe consequences for you and the people you care about. You will learn about denial and how to determine if gambling is a problem for you.
More importantly, if you are a compulsive gambler or at risk of becoming one, Step 1 starts you on the road to recovery. You begin by taking a personal inventory that helps you reduce your unhealthy attributes and promote your desirable ones.
You have our permission to print copies of Step 1 for yourself and anyone you believe might benefit from receiving it. Remember, you also can refer a friend to this web site.